Creating with a Fall Color Palette | Nathalie DeSousa
acrylic paint art crayon color Design Team projects Fall Field Notes collection Free cut files general Inspiration Mixed Media Nathalie DeSousa Nerd Academy New products Pinkfresh Studio Simple and Sweet process video Product Information Scrapbooking Tips & Tutorials Tuesday Tutorial Vicki Boutin Videos What's new in store
Hi there!
Nathalie with you today to bring you a new project inspired by the colors of Fall.  This week we will be creating projects inspired by color, and i wanted to show you how to build a color family background using acrylic paints.
The colors used here are the ones in a Fall sunset (i found the colors by doing a Pinterest search, "Fall color palette"), and were replicated using Acrylic pop paints    The key to having a cohesive look to the background -not harsh transitions between the color stripes- is to build the colors using a same color base.  This means you start with the lightest color, in this case yellow, and create the colors using this as a base.  The background color will be the one that softnes the transitions and help create a cohesive color family.   The following video will show you how this page was put together:
How simple and colorful is that background?!  The color stripes are the perfect base to bring the rest of the layout to live.   The simple stenciled details are just subtle enough to add interest to the stripes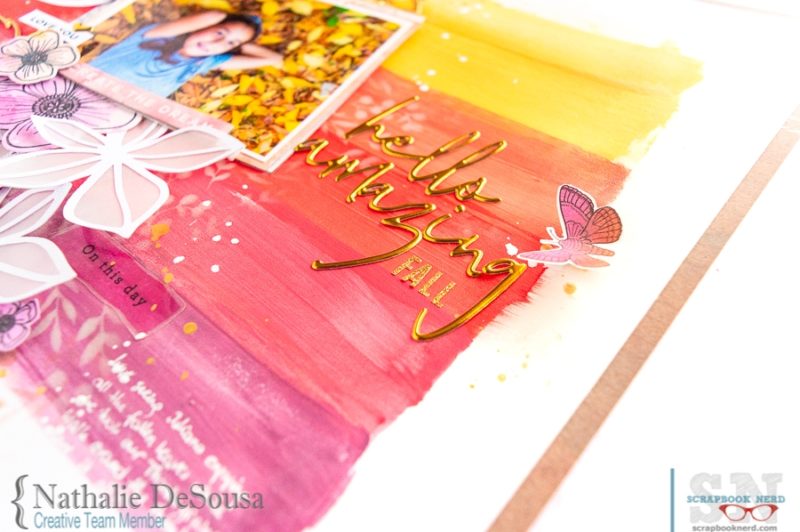 The leaf cut outs and stamped flowers are a great way to create clusters in this page without losing a large part of the background.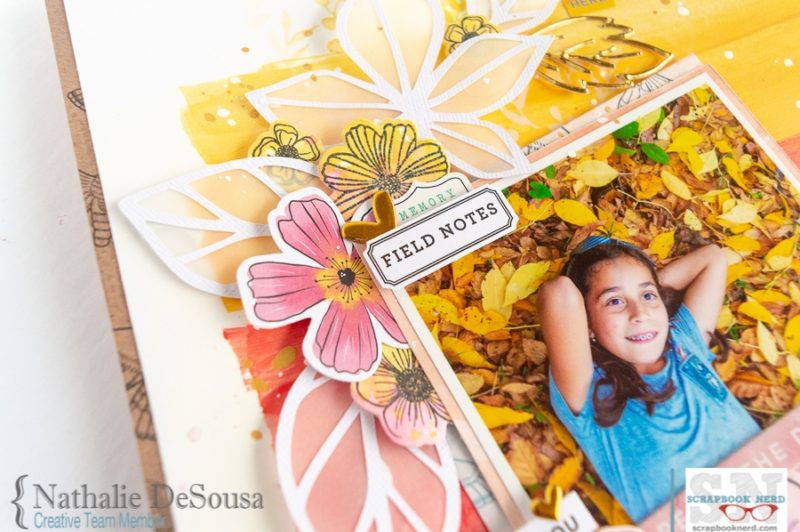 The smalls pop of gold complement all those ephemera pieces and stickers from Vicki Boutin Field Notes and All The Good Things collection.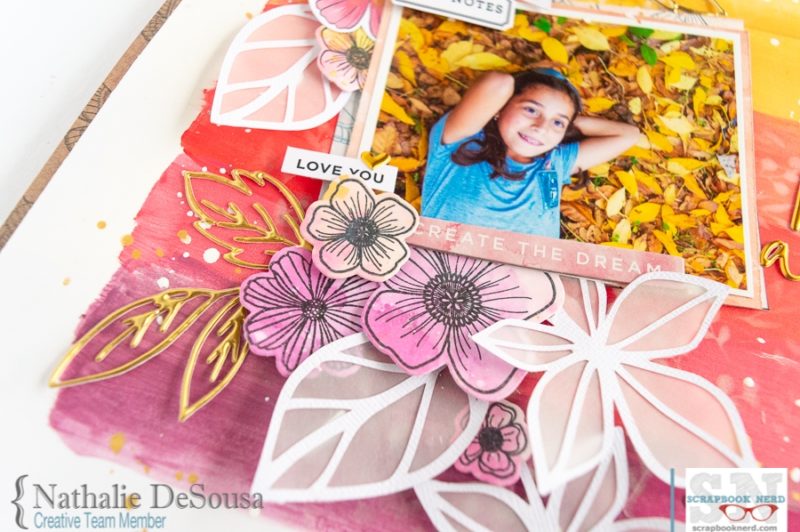 The title brings the warm tones of Fall into this page, and complete the golden look of a modern Fall layout.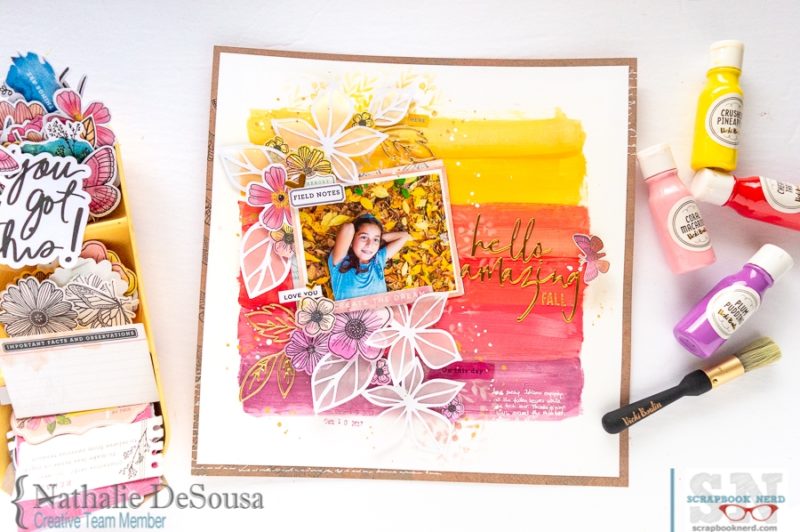 Remember to stop by Scrapbook Nerd to check all the materials used in this page, and all the new goodies that are always arriving at the store.   As always please do not hesitate to contact me if you have questions on how this came together.
XO,

Marshmallow Cardstock, vellum  – Bazzill
Gesso; Acrylic pop paint in White, Crushed Pineapple, Sugar Strawberry, Coral Macaroon, Plum Pudding, Orange Slice, Cherry Tart, Cotton Candy and Black; Art Crayons – warm , neutral sets;  Stencil Brushes  – Vicki Boutin
Shine – Stamp and Die Set – Vicki Boutin
Stamp and Die set #2 – VIcki Boutin v
Field Notes collection – Collect and Document paper, Chipboard stickers, Watercolor Stickers, Ephemera Pieces – VIcki Boutin – American Crafts
All The Good Things collection – Cardstock Stickers – Vicki Boutin – American Crafts
Gold Puffy Thickers – Sweet & SImple collection – Pinkfresh Studio
Gold Puffy Thickers – Flourish collection – Maggie Holmes- Crate Paper
---
← Older Post Newer Post →
---